CNN
 — 

The 2024 Senate map presents a daunting challenge for Democrats. Time will tell if it proves to be insurmountable.
The party, which currently holds a narrow 51-49 majority, must defend 23 of the 34 seats up for grabs this cycle. That means Republicans need a net gain of just one or two seats to retake the Senate, depending on which party wins the White House in 2024.
The most favorable political terrain for Republicans runs through three states that former President Donald Trump carried by at least 8 points in 2020 – West Virginia, Montana and Ohio. In all three, Democrats have incumbents with unique political brands who could again have crossover appeal with voters in a reelection race. And Republicans could face messy primary fights in all three states, leaving the eventual nominees weakened heading into the general election.
Beyond that, Democrats are defending Senate seats in a handful of pivotal presidential battlegrounds – Arizona, Michigan, Nevada, Pennsylvania and Wisconsin. All are expected to be fiercely contested, with Arizona offering the potential for an unpredictable three-way race if Democrat-turned-independent Kyrsten Sinema seeks reelection. Given the overlay of the presidential race, these contests are most likely to see outsize attention with high-profile campaign visits, making them more connected to the national crosscurrents.
If Democrats are searching for targets to offset potential losses, their options are limited. Florida and Texas – both red-leaning states – offer the best opportunities. While Florida Sen. Rick Scott has a history of razor-thin elections, he's won them all. The Sunshine State has also been trending toward Republicans in recent years, especially in the era of Trump and Ron DeSantis. In Texas, Sen. Ted Cruz withstood a tough challenge from Beto O'Rourke in 2018, a Democratic-friendly year. Defeating Cruz in a presidential year could pose an even greater test.
As the cycle gets underway, how these Senate races play out could depend on several factors. While all signs point to President Joe Biden seeking reelection, he has yet to formally announce his intentions. The 2024 GOP presidential field is only just starting to take shape, with Trump a clear front-runner for now.
Aside from the eventual nominees, the overall environment and mood of the country will also help shape contests up and down the ballot as well as the central campaign issues. The state of the US economy is a constant priority for voters. There are signs that culture issues, including parental rights, are poised to drive the debate within GOP primaries and could emerge as general election flashpoints.
Senate Republicans were unable to capitalize on what appeared to be a favorable midterm environment for them in 2022, in part because of flawed candidates, several of whom were elevated by Trump. Already this year, National Republican Senatorial Committee chair Steve Daines and other GOP leaders have sent signals that the committee could get involved in primaries if it means avoiding nominees who could cost the party in the general election.
There are still more than 20 months to go until Election Day 2024, with many twists and turns ahead. But based on CNN's reporting, fundraising figures and historical data about how states and candidates have performed, here is where the Senate map stands at the start of the cycle.
Incumbent: Democrat Joe Manchin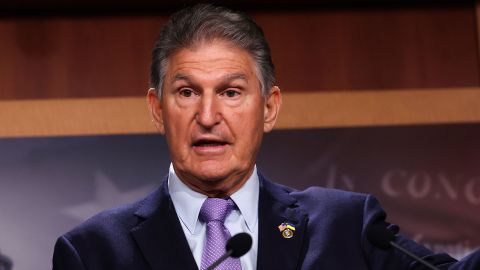 West Virginia Sen. Joe Manchin has spent much of the past two years at the center of the action in the Democratic-controlled Senate, blocking some of Biden's more ambitious agenda items. He's also leaving Democrats in suspense when it comes to his 2024 plans, so far not saying whether he will seek a third full term.
If he runs, Manchin would start the cycle as the most endangered Democratic incumbent, representing a state that backed Trump by 39 points in 2020 – down slightly from his 42-point winning margin four years earlier. While Manchin was able to win reelection by 3 points in 2018, his ability to convince Republicans to split their tickets would be put to the test next year. The last time Manchin was on the ballot in a presidential year, he won by 24 points while Republican Mitt Romney was carrying West Virginia by more than 26 points. But that was in 2012, and political polarization has only intensified since then.
Manchin enters the cycle with a sizable $9.5 million war chest, though that's unlikely to dissuade Republicans eager to challenge him. GOP Rep. Alex Mooney launched his Senate bid in November. Other Republicans eyeing the race include Gov. Jim Justice, who is term-limited, and state Attorney General Patrick Morrisey, who lost to Manchin in 2018.
Incumbent: Democrat Jon Tester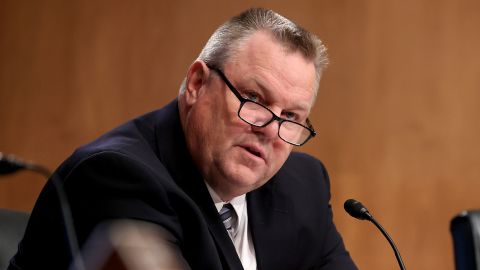 Montana Sen. Jon Tester has been a top target of Republicans ever since he was first elected in 2006, when he narrowly defeated GOP Sen. Conrad Burns in a favorable Democratic midterm environment. A self-described "seven-fingered dirt farmer" with a distinctive flat top haircut, Tester cuts a unique profile for a Democrat – one that has proved difficult for Republicans to pierce in previous elections.
But the GOP is eager to take another shot at unseating the three-term incumbent in a state that Trump carried by more than 16 points in 2020. Much of the talk about potential GOP challengers has focused on the state's two House members, Matt Rosendale and Ryan Zinke. Tester beat Rosendale by more than 3 points in 2018, when the Democrat hammered his GOP rival over his Maryland roots. Zinke, a former Interior secretary under Trump, won a newly created House seat in November by 3 points, underperforming Trump's 7-point spread in a district Montana gained in reapportionment following the 2020 census.
While he hasn't yet announced whether he will seek reelection, Tester enters the cycle sitting on nearly $3 million in cash on hand.
Incumbent: Democrat Sherrod Brown
Unlike Manchin and Tester, three-term Ohio Sen. Sherrod Brown has already announced he will run for reelection in 2024. Brown is the only Democrat to win a nonjudicial statewide race in Ohio over the past decade, demonstrating a measure of political resiliency in a GOP-trending state. Trump carried Ohio by 8 points in both 2020 and 2016. Yet Brown still managed to notch a nearly 7-point win in 2018, albeit against a relatively weak GOP challenger in then-Rep. Jim Renacci.
Just as they did in the 2022 race for the state's other Senate seat, Republicans could face a crowded field of candidates. State Sen. Matt Dolan, whose family owns the Cleveland Guardians baseball team, is running again after placing third in the GOP Senate primary last year. Other potential hopefuls include Ohio Secretary of State Frank LaRose, state Attorney General Dave Yost, Rep. Warren Davidson and businessman Bernie Moreno, who dropped out of the 2022 Senate primary.
Brown enters the cycle with $3.4 million in his campaign coffers as he gears up for what could be a bruising and expensive battle in the Buckeye State.
Incumbent: Independent Kyrsten Sinema
Sen. Kyrsten Sinema hasn't yet said whether she's running for reelection, but her decision to leave the Democratic Party late last year and become an independent has scrambled this race in a state where Democrats have won three Senate elections in the last three cycles. (Biden also narrowly carried the state in 2020.)
Democratic Rep. Ruben Gallego has already entered the race, hoping to tap into progressives' frustration with the moderate first-term senator for being an obstacle to parts of Biden's agenda in the closely divided chamber. Sinema continues to caucus with her former party in the narrowly divided Senate, so national Democrats face a delicate decision if she runs for a second term. While Sinema and Gallego could split votes and help the eventual GOP nominee, Democrats, for now, are happy to deflect to potential messiness on the GOP side.
Republicans considering Senate bids include election deniers such as failed 2020 nominees Blake Masters, who lost a bid for Senate, and Kari Lake, who says last fall's gubernatorial election was stolen from her. Lake met with NRSC officials earlier this month, CNN reported, but she's also holding events in Iowa, which would suggest interest in a different federal office. If there's been a lesson for the Arizona GOP over the last few years here, it's that catering to the more extreme Trump base works well in the state's late-summer primary but alienates voters in the general election. Freshman Rep. Juan Ciscomani, seen as a potential candidate, was tapped to deliver the GOP rebuttal in Spanish to Biden's State of the Union address.
Incumbent: Democrat Jacky Rosen
Democratic Sen. Jacky Rosen is running for reelection in a state that Biden carried by about 2 points in 2020 and that will again be competitive presidential turf in 2024. That means Rosen can expect Republicans to tie her to the national Democratic Party if she doesn't effectively carve out her own brand.
First elected to the House in 2016 before running successfully for the Senate two years later, Rosen began 2023 with more than $4.4 million in the bank, which should give her a strong fundraising head start on would-be challengers. Republicans came close to knocking off the Silver State's other Democratic senator, Catherine Cortez Masto, last year in a difficult environment for Democrats, who lost the governor's mansion but held on to several down-ballot offices.
Republicans Adam Laxalt, the former state attorney general who lost to Cortez Masto last fall, and Purple Heart recipient Sam Brown, an Army veteran who lost to Laxalt in the 2022 Senate primary, could run again.
Incumbent: Democrat Tammy Baldwin
Few states have such politically divergent senators as Wisconsin, where progressive Democrat Tammy Baldwin is up for a third term in 2024 and conservative Republican Ron Johnson won reelection last fall by 1 point. Baldwin, the first out LGBTQ member of the Senate, has demonstrated an ability to win in a closely divided state – she won reelection in 2018 by 11 points in a strong year for Democrats.
The Badger State will once again be a presidential battleground next year after Wisconsin voters narrowly backed Trump and Biden in 2016 and 2020, respectively. Baldwin has pushed for stronger "Buy America" policies in legislation such as the bipartisan infrastructure package enacted in 2021, which she'd be likely to tout on the campaign trail. She hasn't officially announced her reelection plans, but she started the year with more than $3 million in the bank.
One of the most prominent Republicans often mentioned as a challenger is Rep. Mike Gallagher, a Marine veteran first elected in 2016. There's an election in April for a state Supreme Court seat, which could affect the court's partisan makeup – and potentially the state's congressional map. New district lines could push some GOP members of Wisconsin's House delegation to run for Senate.
Incumbent: Democrat Debbie Stabenow (retiring)
Four-term Democratic Sen. Debbie Stabenow's retirement opens up a seat in a battleground state that Biden carried by about 3 points in 2020. Democrats saw success here in 2022, and they're enthusiastic about their bench of potential Senate hopefuls – especially Rep. Elissa Slotkin, a former CIA analyst and impressive fundraiser who just won a third term in one of the most expensive House races in the country.
The likelihood of a strong Democratic recruit running in the Wolverine State moves this contest slightly lower on the list of seats most likely to flip, even though an open seat would typically cost Democrats more money and be harder to defend. Possible Republican candidates include newly elected Rep. John James, who has lost two successive Senate races, and former Rep. Peter Meijer, who lost a 2022 primary. Meijer's 2021 vote to impeach Trump after the January 6 insurrection, however, could make it more challenging for him to win a GOP primary.
Incumbent: Democrat Bob Casey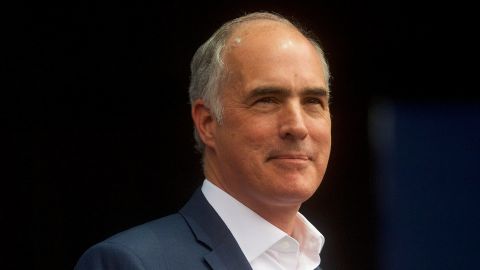 Democratic Sen. Bob Casey is facing reelection in a state that Biden very narrowly carried in 2020. Since then, Democrats flipped an open Senate seat here, and Casey, a former state auditor general and treasurer, is much more of a known commodity than newly elected Democratic Sen. John Fetterman.
First elected to the Senate in 2006 and most recently reelected by 13 points in 2018, Casey comes from a politically influential family in the Keystone State. Unlike his father, a two-term governor and leader in the anti-abortion movement, the younger Casey typically votes in favor of abortion rights even if he opposes the procedure personally. He announced in January he'd been diagnosed with prostate cancer but has an "excellent prognosis."
Pennsylvania Republicans had a rough year in 2022, losing both the Senate and governor's races with Trump-backed nominees. Former hedge fund executive Dave McCormick – who tried to embrace Trump after moving back to the state but ultimately lost out on his endorsement and the 2022 Senate nomination – could be an attractive challenger for the GOP because of his personal wealth.
Incumbent: Republican Rick Scott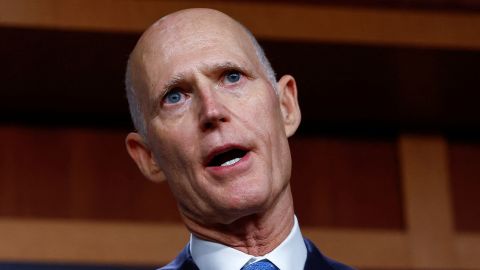 There is a sharp dropoff in competitiveness once you get past the top eight races on our list. Florida, once a perennial battleground state, has shifted toward Republicans in recent years. Gov. Ron DeSantis and Sen. Marco Rubio both scored commanding reelection victories last year. Democrat Val Demings was a top-tier recruit who raised gobs of money and still lost to Rubio by 16 points.
That said, GOP Sen. Rick Scott, a former Florida governor who is seeking a second term next year, has a history of razor-thin general election wins. And as Biden did last week during his post-State of the Union stop in Tampa, Democrats are sure to seize on the agenda Scott proposed last year during his tenure as head of the NRSC, which he later revised after it sparked blowback from some Republicans, including Senate Minority Leader Mitch McConnell.
But with Democrats defending so much turf this cycle, it's hard to see the party investing heavily in trying to flip a Senate seat in Florida during a presidential year, especially given the vast personal resources Scott can plow into his campaign. Among the names being floated as potential Democratic challengers is former Rep. Stephanie Murphy, a moderate who represented an Orlando-area district until earlier this year.
Incumbent: Republican Ted Cruz
In 2018, Democratic Rep. Beto O'Rourke generated national headlines and astronomical fundraising totals but still came up more than 2 points short against Texas Sen. Ted Cruz. While Cruz is seen as a potential 2024 presidential candidate, his focus for now appears to be on seeking a third term.
Beyond O'Rourke's narrow loss, Texas has shown signs of moving toward Democrats, with Trump winning the state by less than 6 points in 2020 – the narrowest margin for the GOP since 1996. But Texas still a red state, as evidenced by Republican Gov. Greg Abbott's double-digit reelection victory over O'Rourke last fall.
Potential Democratic Senate contenders to watch here include former Housing and Urban Development Secretary Julián Castro and Rep. Colin Allred.