Victorian political enthusiasts have a chance to own a piece of history, with a temporary fence that covered the damage caused by Victorian MP Tim Smith in a drink-driving crash now up for sale.
Made from chipboard, the temporary fence was erected in October 2021 after Smith crashed his Jaguar into a Hawthorn property while more than two times the legal blood-alcohol limit.
In the wake of the crash, someone sprawled the word "Chappaquiddick" across the fence, in an apparent reference to the 1969 crash by then-US senator Ted Kennedy on Chappaquiddick Island that resulted in the drowning death of his passenger.
Unlike Smith, Kennedy fled the scene of the crash and waited until the next morning to report it to police. The senator lost his licence for 16 months, with the incident killing his presidential hopes.
Though no one was injured in Smith's crash, it ended his career in state politics, with the Kew MP resigning at the November state election.
The owners of the Hawthorn home, Simone Ball Santamaria and Mike Santamaria, have repaired their fence nearly 18 months after the crash and will auction off a piece of the chipboard for charity.
The couple appeared at A Rational Fear's Melbourne comedy festival show on Sunday to unveil the framed piece. In a little more than 24 hours, it had amassed 24 bids on eBay totalling $1,000.
All proceeds will go to the Asylum Seeker Resource Centre.
Ball Santamaria said the temporary fence had become an attraction, with people coming to take selfies with it "all the time".
"Over the 17 months it has taken to get the fence and our kids' bedroom fixed the fence developed a personality and a following of its own," she told Guardian Australia.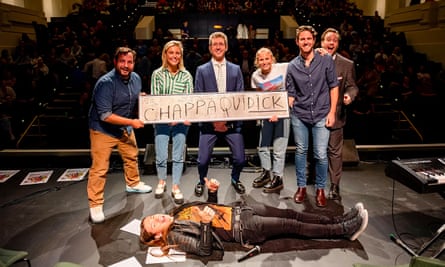 "We thought a great way to close this chapter of our lives was to create some good out of it and raise some money for an organisation which we really respect and admire."
Ball Santamaria said raising money for charity would be a "nice way to do some good with a bad situation".
"We didn't really know what to expect and thought it may only make $50, but it's already well above that," she said.
In a statement issued shortly after the October 2021 crash, Smith said he had been at a dinner with friends and drove home believing he was under the limit.
But it was a "serious error of judgment" and he returned a positive breath test reading of 0.131, more than twice the legal limit.
At a later press conference, Smith said he had just "a couple" of wines before later admitting he had "quite a few glasses of wine" and that he was an "idiot".
An advertisement to launch the auction, created by A Rational Fear, said the auction provided "a unique opportunity to own a piece of Australian political idiocy".
"Hang it on your wall as a warning about the dangers of mixing privilege and alcohol. Sit it in your dining room where your guests can be as intoxicated as someone who had a skinful and drove through a fence on their way home," says the voiceover by comedian Tony Martin.
"Or simply put it out in the scrap heap of history where it belongs."